As you wander around the Leicester Gilroes cemetery, you can't fail to notice the Cross of Sacrifice outside of the main crematorium building. In front of the Cross is a screen wall containing the names of 31 casualties from all 3 branches of the services, Army Navy and RAF plus the Home Guard. All of whom died during WW2 and their bodies were cremated.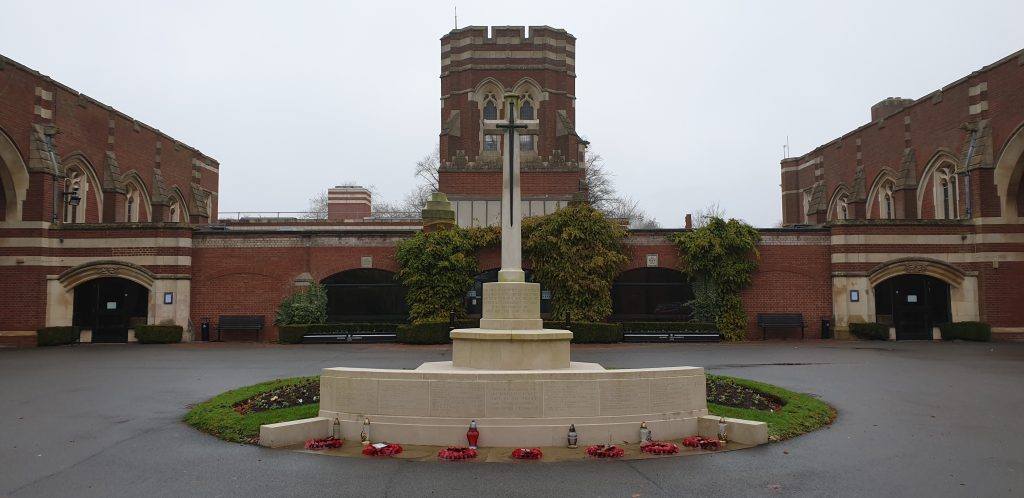 Also, scattered around the cemetery are the graves of a further 272 military personnel from both WW1 and WW2. The majority of the graves have the standard CWGC headstone made out of either Portland, Stancliffe or Botticino stone, whilst others have a private memorial stone erected by the family.
As you meander around the site, looking at the graves, you will also see headstones that mention individuals that were killed on military service and are buried elsewhere. These are actually classed as war memorials as they commemorate a deceased service person who as previously mention is buried at another location.
One example was the Browne family headstone, and as usual it was the inscription that grabbed my attention as it referred to the individual being Killed on Active Service in Malta.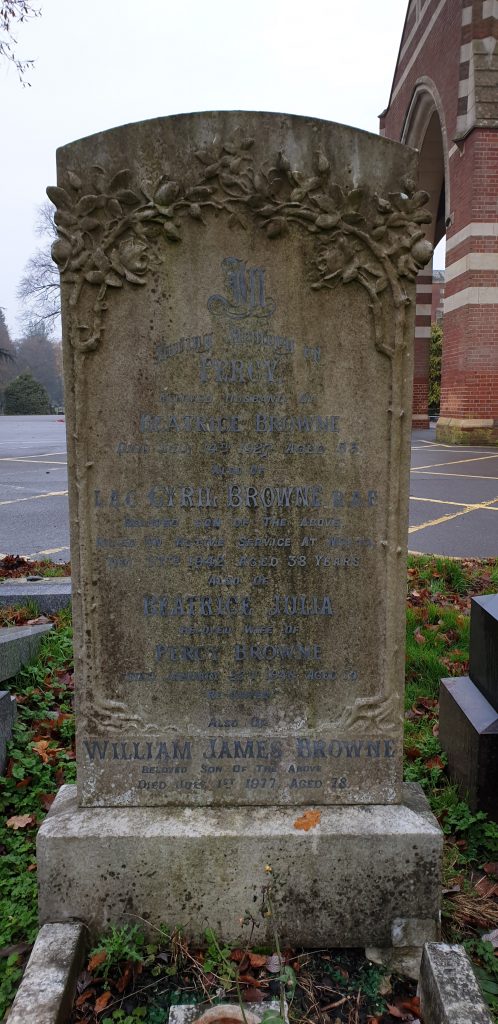 In
Loving Memory of
Percy
Beloved Husband of
Beatrice Browne
Died July 14th 1927 Aged 53
Also of
LAC Cyril Browne RAF
Beloved Son of the Above
Killed on Active Service at Malta
Dec 17th 1942 Aged 38
Also of Beatrice Julia
Beloved Wife of
Percy Browne
Died January 22nd 1948 Aged 74
"Re-United"
Also of
William James
Beloved Son of the Above
Died July 1st 1977

A quick check of the CWGC casualty database soon confirmed that indeed the individual was buried in Plot F. Coll. grave 18. of the Prot. Sec. (Men's). in the Cappucini Naval Cemetery in Malta and not in Gilroes Cemetery.
The Grave Registration Report Form can be viewed and downloaded from the CWGC casualty record and this shows several personnel from 138 Sqn who were killed on the 17th Dec 42 and are buried in Cappucini Naval Cemetery.
But who was Cyril Browne and what happened to him?
As we have already gathered from the inscription on the headstone, Cyril Browne was the son of Percy and Beatrice Browne. He was born on 5th June 1906 in Blaby district of Leicester. He had 3 elder brothers, 1 younger brother and 2 younger sisters.
When the 1911 census was carried out, Cyrils father Percy was listed as a Provision Merchant and was recorded as living with his family at Roseleigh, Fox Lane, Kirby Muxloe, Leicester. Listed on the census return along with Percy, was his wife, Beatrice and their children Willie (11), Archie (10), George (7), Cyril (4) and Charles (1).
At the start of the First World War, the family were residing at 371 Fosse Road South in Leicester, but by 1918, they had moved to 44 Glenfield Road. Within a couple of years, they had moved a few doors down the road to No 23 Glenfield Road.
By 1930, the family had moved from Glenfield Road and were now residing at Glen-Haven on Narborough Road. At the time of the 1939 register, Cyril was listed as living at Glen-Haven, Leicester Road, Blaby with his mother Beatrice, his younger brother Charles, and their younger sisters Beatrice and Kathleen. Cyril's occupation was listed as Grocer and Fruit Salesperson.
Following the outbreak of War, Cyril enlisted into the Royal Air Force (Volunteer Reserve) as a Mechanised Transport Driver, undergoing training at RAF Padgate and allocated service number 1069726.
After completing his training, Cyril was serving with No 21 Personnel Transit Centre at RAF Kasfareet, part of No. 216 Group, Royal Air Force Middle East Command in Egypt.
On the 17th December 1942 he was returning to the UK, departing Cairo and staging via Malta and Gibraltar. He was a passenger aboard a Handley Page Halifax Mk2 DT542 NF-Q of 138 (Special Duties) Squadron.
The crew of the Halifax were all Polish Air Force serving in the Royal Air Force with the exception of the Flight Engineer:
Flying Officer (Porucznik) Krzysztof Leon Dobromirski, (Pilot)
Flying Officer (Porucznik) Zbigniew Idzikowski, (Observer)
Flying Officer (Porucznik) Stanislaw Pankiewicz, (Pilot)
Sergeant (Sierzant) Alfred Edmund Kleniewski, (WOp/AG)
Sergeant (Sierzant) Roman Wysocki, (Wop/AG)
Flight Sergeant (Starzy Sierzant) Oskar Franciszek Zielinski (Gunner)
Sergeant Alexander Clubb Watt (Flt Eng)

In addition to Cyril and the above crew members, the following personnel were also passengers onboard the aircraft:
Maj Allen Algernon Bathurst. (Lord Apsley) DSO, MC, TD. 1 Royal Gloucester Hussars Royal Armoured Car and MP
Maj Arthur David Curtis Millar. Indian Army
Sqn Ldr Jefferson Heywood Wedgwood DFC. Pilot, RAF 92 Sqn
Fl Lt Peter Earle. RAF air Gunner, 76 Sqn. Ex 462 Sqn
Fl Lt Leonard Arthur Vaughan. DSO, DFC. RAF Air Gunner, 40 Sqn
Sgt Dennis Spibey. RAF. Fitter Grade 2 (Engines), 138 Sqn
Cpl Douglas Sidney Hounslow. RAFVR. Fitter Grade 2 (Airframes) 138 Sqn
LAC Richard Clegg. RAFVR. Flight Mechanic (Engines) 138 Sqn
AC1 Stanley Edward Kelly. RAFVR. Clerk/General Duties, 244 Wing Middle East Command

After it had been refuelled, DT542 NF-Q took off from RAF Luqa Airfield in the dark at around 04:00hrs to continue its journey to England via Gibraltar.
Shortly after it was airborne, the aircraft passed over Zeitun when a loud explosion was heard, and it crashed onto fields between Il-Bajjada and Ta'San Girgor, limits of Zejtun 04:05hrs and caught fire. Tragically all the crew and the passengers were killed in the crash.
There are conflicting stories that the aircraft suffered engine trouble just after take-off from Luqa and was returning when it crashed.
The Island's defenders would certainly have been wary of any aircraft, as it was not until 20th November 1942 that the siege of Malta could be considered as over. Enemy air attacks continued for some time, albeit only sporadically and on a much reduced scale. The cost to both sides had been high, with well over 1,000 aircraft written off and thousands of military personnel and civilians killed and injured.
At least one account claims that the Halifax was mistakenly identified as an enemy aircraft and shot down by Anti Aircraft fire.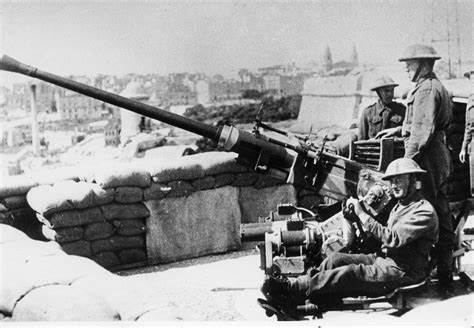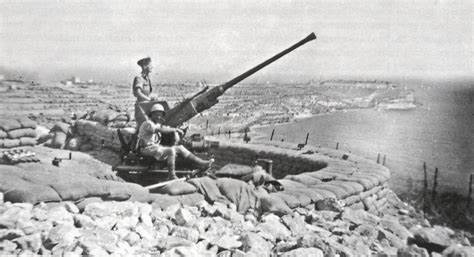 It is not clear what the aircraft was doing out in Egypt as there is no record of any sortie for the crew around that date other than an entry for the 17th listing the crew names and stating "Killed on Operations".
The Operational Record Book of 40 squadron which Flt Lt Leonard Vaughan DSO DFC belonged to merely states that the aircraft "crashed on landing after being recalled".
Cyril is buried in the Cappucini Naval Cemetery Malta (Protestant Section Men's Plot F Collective Grave 18. He is also remembered on the memorial at St Johns Church, Enderby plus on his parents gravestone at Leicester Gilroes Cemetery.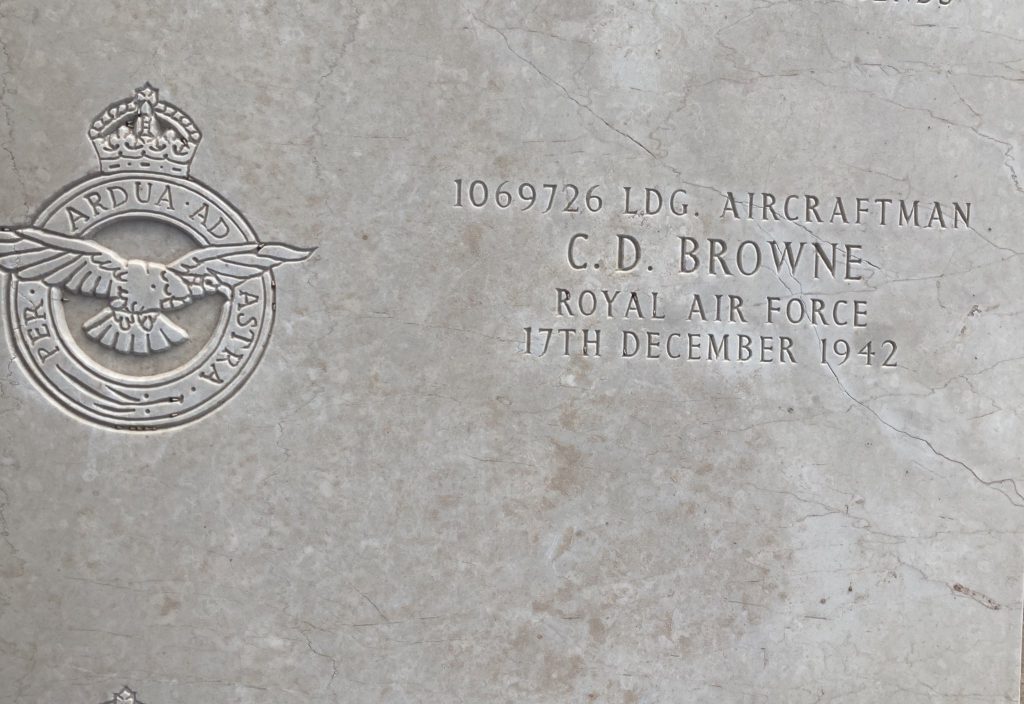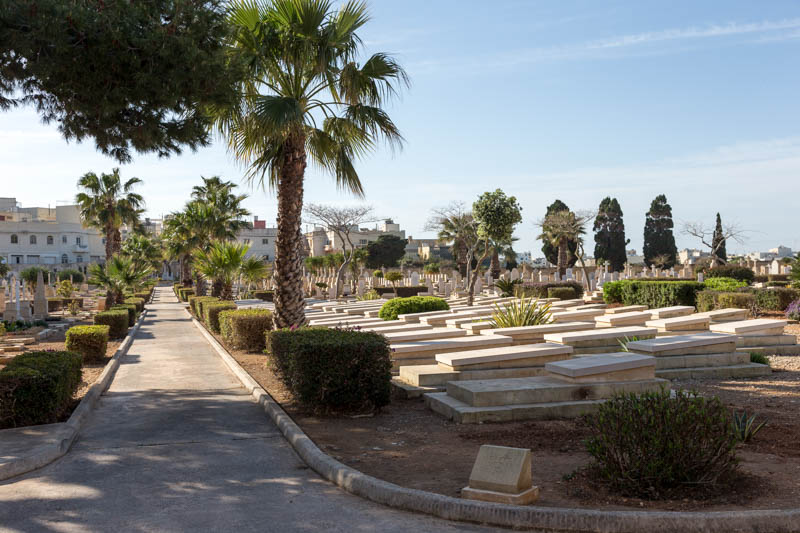 I suppose we will never know the true answer as to whether it was a tragic accident or a case of mistaken identity, but according to the aircraft accident card, there was no mention of enemy action and certainly ne mention of a friendly fire incident.
Proudly and Thankfully We Will Remember Them