Looking for the perfect Christmas or birthday present for a friend or family member?
A gift they'll always remember!
HistoryFare gift vouchers are the perfect gift for friends, family and colleagues who love getting outdoors, discovering history or exploring new places. We provide guided walks and talks across the historic market town of Melton Mowbray. 
Give a HistoryFare gift voucher!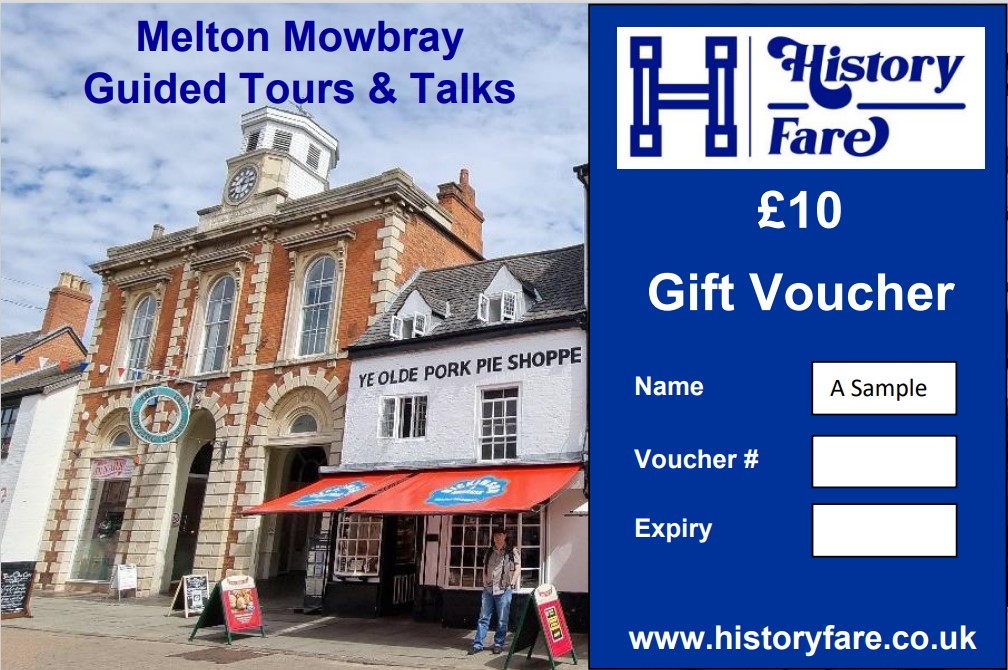 These are redeemable for any scheduled talk or two-hour guided walking tour in Melton Mowbray and cost just £10 per ticket.
Have the gift voucher emailed straight to the lucky person or you can print it out and give it them in person.
Vouchers can be used for any HistoryFare talk or walking tour.
Prices start from £10 and can be increased in increments of £10.
Valid for 24 months from date of purchase.
HistoryFare walking tours and talks are for those who love Melton Mowbray and want to make the most of their time here, no matter whether it's a weekend or a day trip.
HistoryFare aims to deliver insightful and well-prepared events with genuine enthusiasm and professionalism. Buying a gift voucher is a smart move. 
To purchase your gift voucher, email: meltonhistoryfare@gmail.com