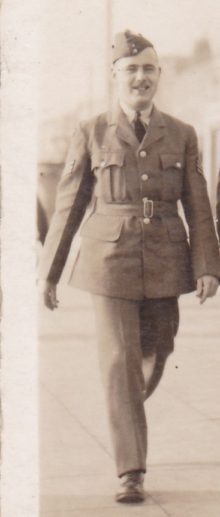 Richard was the son of Frederick Hartridge Branson, and Muriel Virginia Branson, he was born in Leeds and was the youngest of 3 siblings. The eldest sibling was Eileen Constance, born 18 Feb 1913, followed by Peter Orchard born 25 Jul 1916, then Richard on 8th May 1918.
At the time of the 1939 Register being taken, Richard was living at home at Kenilworth, Allwoodley Lane, Leeds with his parents and brother and sister.
His father Frederick was listed as the Managing Director & Chairman Wholesale Drug & Surgical Company Limited. His mother Muriel was listed as Unpaid Domestic Duties with Eileen listed as a Qualified Dispenser on Medicines and both Peter and Richard listed as Electrical Instrument makers. The register also noted that Peter was an ARP and Richard was in the RAF but not yet called up.
On the 1st May 1940, the Eastbourne Gazette reported a motoring fine "Excessive Speed – For exceeding the speed limit with a motor car in Willingdon Road on 6 April Sergt-Pilot Robert H Pinkerton was fined £1 at the Police Court on Monday. His licence was endorsed. For exceeding the speed limit with a motor cycle in Seaside on April 6 Sergt-Pilot Richard A Branson was fined £1."
In May 1941 Richard was serving as a Sergeant Pilot with No 261 Squadron based at RAF Hal Far in Malta. Shortly before midday on the 6th, four HE111s of II./KG26 approached the island escorted by elements of both III./JG27 and 7./JG26 consisting of 30 – 40 Me109s.
Richard Branson and his colleagues from C Flight were scrambled to intercept them. He was involved in an aerial combat with Luftwaffe Ace Oberleutnant Joachim Müncheberg of The Red Hearts 7 Staffel/Jagdgeschwader 26, known as 7./JG 26 or the Staffe.
Müncheberg claimed his 43rd victory by shooting down Hurricane II Z3059 piloted by Branson. Branson's aircraft was lost about 1KM SW of Hal Far, but he managed to escape from his Hurricane. Hid suffer minor burn injuries to his right leg but managed to bail out successfully and landed in the sea and was back on the Squadron later that day.
Following service with 261 Sqn, Richard also served with 185 Sqn and the Malta Night Fighter Unit (MNFU).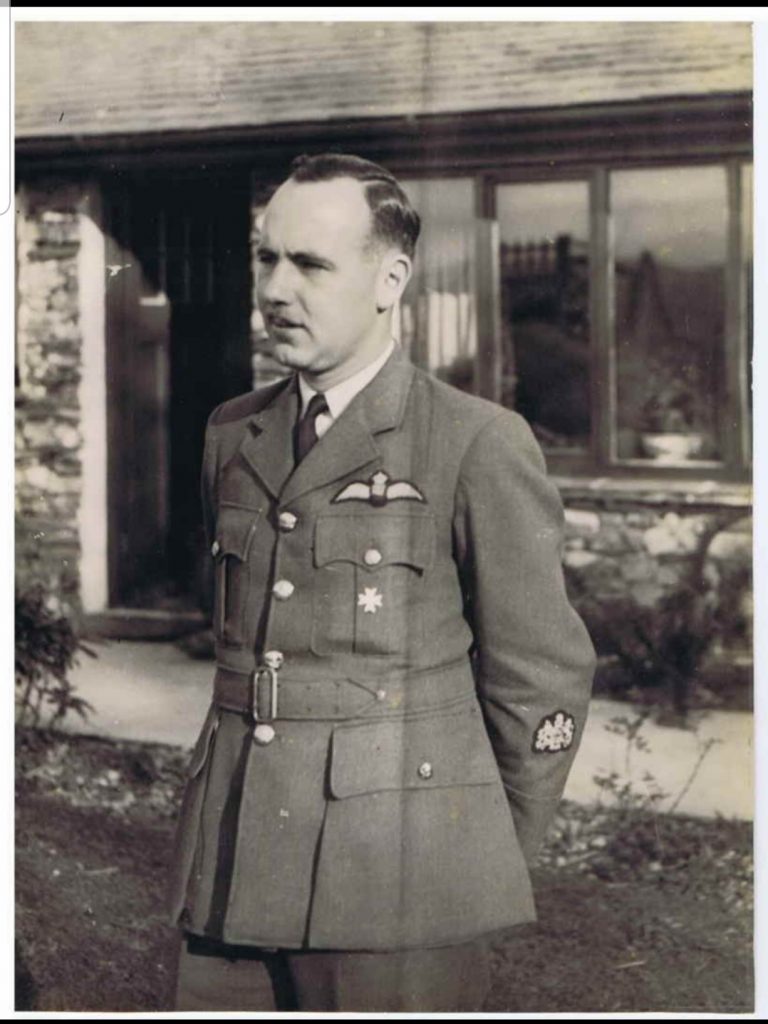 The picture shows Richard as a Warrant Officer and wearing the Malta Night Fighter Unit "Maltese Cross" silver badge. 
These badges were locally manufactured during the siege of Malta and only given to RAF personnel who flew in defence of the island.
Engraved on the obverse with MNFU (one letter on each arm of the cross) and on the reverse with the owners initials RAB.
The 185 Sqn diary recorded the following event: "Sgt Branson, ex-185, now in the MNFU, did some very low flying along the Sliema front for the benefit of a Girlfriend. Unfortunately, the AOC was also an interested spectator and decided that Branson could do some more low flying – along the banks of the River Nile. Apart from the injustice of the punishment, it puts ideas into people's heads – if you want to get off the island, low fly along the Sliema front!"
The MNFU was formed in July 41 and led by former Battle of Britain flight commander Flt Lt George Powell-Sheddon. The unit was based at Ta Qali and operated a special fleet of 8 Hurricanes painted all in black.
The London Gazette published on 25 January 1944 recorded his promotion to Plt Off  (on probation) for 754270 Richard Arthur Branson (162939) 4th July 1943.
His promotion to Flying Officer was recorded in the London Gazette published 19 May 1944 "R A Branson (162939) 4th Jan 44".
This was followed by a further promotion to Flight Lieutenant on 4th July 1945 which was published in the London Gazette on 7th July 1945.
On 31st August 1945, Flt Lt Richard Branson and Fg Off Harry Batcheler were part of No 12 Ferry Unit RAF Melton Mowbray and were tasked with a ferry flight onboard Beaufighter RD725.
As they were taking off, the starboard engine cut out resulting in the aircraft going out of control and crashing 1 mile South West of Little Dalby, sadly with the loss of both crew members.
His death was reported in the Yorkshire Post and Leeds Intelligencer 0m 07 September 1945.
"Leeds RAF Man Killed – Flight Lieutenant Richard Arthur Branson (27), son of Mr. and Mrs. F Hartridge Branson, Winsterica Ghyll Head, Windermere (late of Alwoodley, Leeds), has been killed in a flying accident in Melton Mowbray. An old boy of Roundhay School, he was junior director of Reynolds and Branson Ltd, wholesale chemists, Briggate Leeds, and had served in the RAF for more than six years."
Richard is buried in Sec. W. Grave 4174, Thorpe Road cemetery, Melton Mowbray.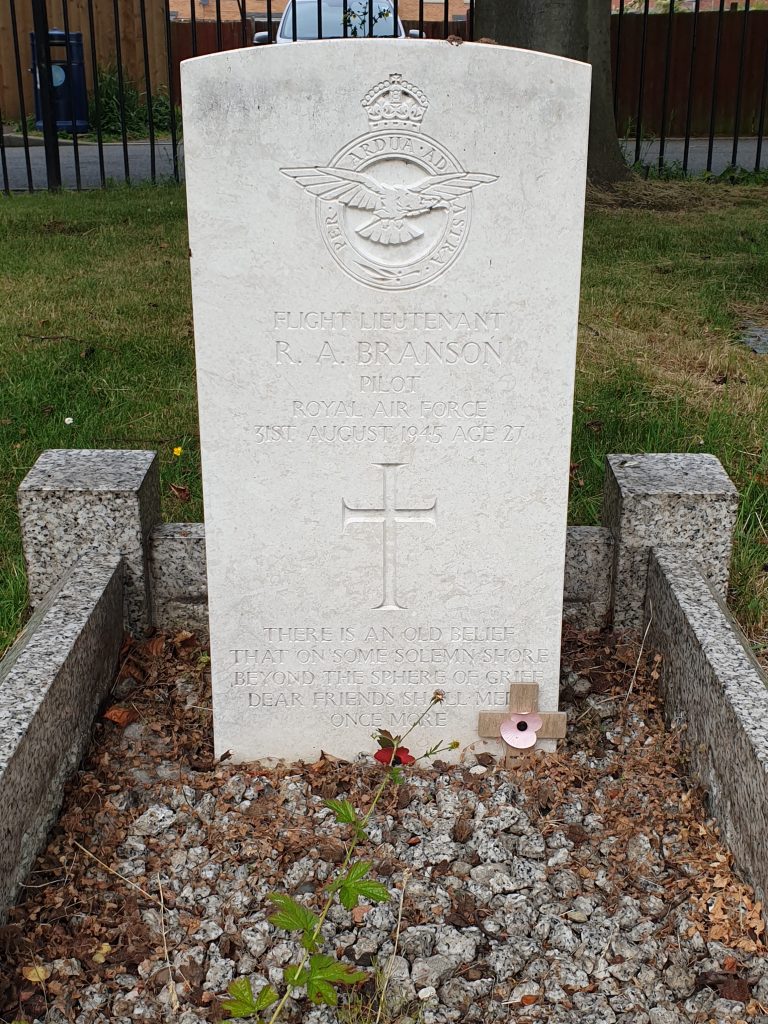 "THERE IS AN OLD BELIEF THAT ON SOME SOLEMN SHORE BEYOND THE SPHERE OF GRIEF DEAR FRIENDS SHALL MEET ONCE MORE"
His crew mate in the Beaufighter was Fg Off Harry George Walter Batcheler, 190812, serving as a Navigator with 12 Ferry Unit at RAF Melton Mowbray
Harry was born in July 1910 and was the son of Harry Thomas Batcheler and Olive Edith Batcheler, of Earlsfield, London; husband of Marie Louise Batcheler, of Wolverhampton. father Harry worked for the London County Council as an Electric Tram Car Conductor.
Harry married Marie Louise Walters in 1935 in Wolverhampton. He later joined the RAF in the NCO ranks and made his way to Warrant Officer. He was subsequently commissioned on 24th November 1944 when his promotion to Plt Off on probation (emergency) was 'gazetted' on 13th March 1945.
Harry is buried in Plot H/3. Grave 106 at the Oxford (Botley) Cemetery.
"IN SACRED MEMORY OF HARRY BELOVED HUSBAND OF MARIE
FOLD HIM IN THINE ARMS O LORD, TILL WE MEET AGAIN"