Leonard Ashby Court was born in Leicestershire in 1919, his father was also called Leonard Ashby Court and his mother was Kate (May) Eagle.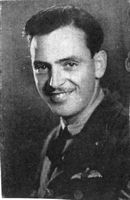 According to the 1911 Census, his father Leonard Ashby Court was living at home at 25 Lonsdale Street Leicester and was listed as a 15 year old employed in hosiery manufacturing. The other occupants of the household were, a 3rd generation relative also called Leonard Arthur Court aged 40, who was a cigar maker originally from Warwick, Eliza Court his wife aged 42 and Frederick Court aged 6.
In the 1st Quarter of 1919, Leonard Ashby Court married Kate May Eagle in Leicester and on the 13th September, the 3rd generation Leonard Ashby Court was born.
Sadly in 1922, just a couple of years later, Leonard (2nd Generation) died, leaving his wife Kate May as a widow at the age of 25. However, a couple of years later, she re-married, Bernard Toms with whom she went on to have more children with.
On the 1st September 1939, the same day that World War 2 started when Adolf Hitler invaded Poland and Britain declared war against Germany, the National registration Bill was read out in the House of Commons. Two days later, the National Registration Act was passed and the 29th September 1939 was declared as the National Registration Day.
According to the 1939 register, Leonard Ashby Court was a costing clerk working within the machine tools industry. He was living with his parents, Kate and Bernard in a property on Main Street in Barkby, Leicestershire and their sons, Carl, Terence and Brian.
At some point after this, Leonard joined the Royal Air Force (Volunteer Reserve) as a pilot and after gaining his wings, he joined No 7 (Coastal) Operation Training Unit (OTU) at RAF Limavady.
In 1941 at Barrow Upon Soar, Leonard was married to Joyce Enid Whiles and the couple had a son born in September 41.
Royal Air Force Limavady near Derry in Northern Ireland was the first of over 20 new airfields constructed in Northern Ireland during the war and was handed over to 15 Group.
The base was used by Coastal Command in the fight against German U-Boats in the Atlantic Ocean and was home to several RAF Units during WW2 operating large numbers of Whitleys, Hudsons and Wellingtons of 502, 224 and 221 Squadrons, respectively.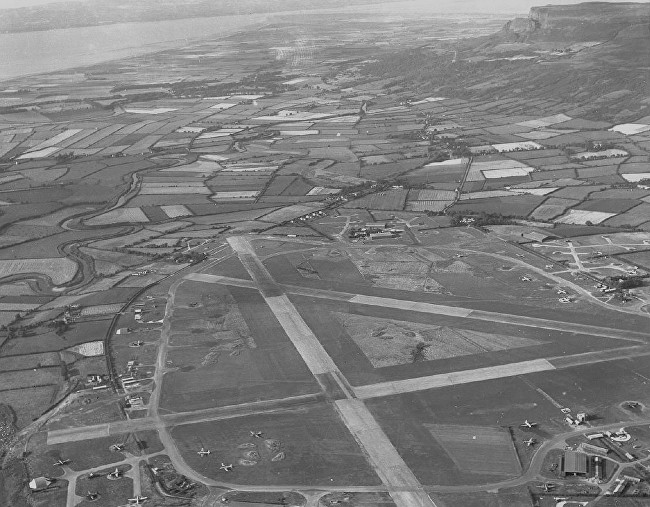 Operations from Limavady accumulated about 25,600 flying hours on convoy patrols during its first year of service which was a record achievement among airfields of No 15 Group during the period.
In April 1942, it was transferred from 15 Group to 17 Group for training purposes and the operational squadrons withdrew being replaced by No 7(C) OTU equipped with Wellingtons and Ansons until January 1944.
After No No 7(C) OTU had departed, Limavady once again became an operational base with Nos 172, 407 and 612 Squadron operating the Wellington and the Fleet Air Arm 850 Squadron operating Avengers within 15 Group.
After the war, the base was handed over to the Royal Naval Air Service who operated out of it until 1958.
No. 7 OTU was originally formed on 15 June 1940 at RAF Hawarden in Flintshire, Wales and operated a variety of aircraft including Supermarine Spitfires and Fairey Battles. After a few months, the Unit was disbanded on 1st Nov 1940 when it became No 57 OTU.
On the 1st April 1942, it was reformed at Limavady operating Vickers Wellingtons and Avro Ansens. The OTU role was to train and build together crews for Coastal Command's operational Squadrons, similar to the OTU's in Bomber Command.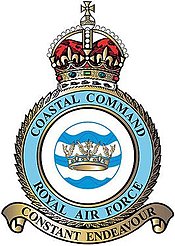 Each member of the crew would have undertaken their basic service training prior to this before going on to learn their particular trades at separate training facilities. At this stage in 1943, it is possible that some of the crew members may have done some off their initial training in Canada or another of the Commonwealth countries.
On 28th February 1943, a Mark VIII Wellington bomber, serial number HX737 operated by No 7(C) OTU took off from RAF Limavady on a training flight with 6 crew on board with Sergeant Leonard Court as the Captain for this particular sortie. The crew who were all Sergeants, consisted of 2 pilots, 1 Navigator and 3 Wireless Operator/Air Gunners.
Pilot – Sergeant Leonard Ashby Court (Captain) Pilot – Sergeant John D'Arcy Wall Navigator – Sergeant John Steen Campbell Wireless Operator/Air Gunner – Sergeant Geoffrey James Scott Farthing Wireless Operator/Air Gunner – Sergeant James Gilmore Wireless Operator/Air Gunner – Sergeant Ronald William Gutteridge
The aircraft they were flying that day, HX737 was built by Vickers at their factory in Weybridge, Surrey. It was delivered to the RAF and taken on strength by No 32 Maintenance Unit on the 2nd of September 1942, thence to 33 Maintenance Unit and was delivered to 7 (C) OTU only on the 9th of February 1943, less than 20 days before the crash.
Many of the residents of Falcarragh, a small Gaeltacht town in County. Donegal were on their way to mass on the morning of Sunday the 28th Feb when they heard a plane circling overhead. At around 0915hrs, Vickers Wellington HX737 crashed into turf banks at Meenderry near to Falcarragh. This area was in the "Donegal Corridor", an area of airspace over neutral Ireland in which Allied planes could operate on the Atlantic coast.
The impact destroyed Vickers Wellington HX737 killing all 6 crew members. Wreckage lay across surrounding fields while the aircraft's heavy Pegasus engines submerged in the boggy ground.
A rescue and recovery operation by 17th Infantry Battalion found 4 bodies on the day of the crash. The following day the bodies of the remaining 2 crew members were recovered. The army also collected 4 Browning machine guns, 2 Vickers K machine guns, and around 200 rounds of damaged ammunition. A military truck removed around 2 tons of scrap metal, leaving the rest buried at the crash site.
The Operation Record Book for No 7(C) OTU dated 28th February 1943 shows the following entry: "Wellington a/c H.X. 737 (Capt Sgt Court) crashed in Eire and caught fire. The crew of 6, Sgts Wall, Court, Campbell, Gutteridge, Farthing and Gilmore were killed."
The Leicester Chronicle reported on the 13th March 1943 that "Mrs Court of Barkby, has received news that her husband, Sergeant Pilot Leonard Court, Coastal Command, RAF; has been killed on active service. The Sergeant pilot was the eldest son of Mr & Mrs Toms, of the Stores, Barkby. He was aged 22.
Sergeant Leonard Ashby Court was buried in Grave 48, Section W of the Barkby Cemetery. He would have had a standard Portland Stone grave marker (Commission headstone) provided by the Commonwealth War Graves Commission as according to his CWGC records the family chose the following personal inscription "LIFE'S RACE WELL RUN LIFE'S WORK WELL DONE LIFE'S VICTORY WON NOW COMETH REST"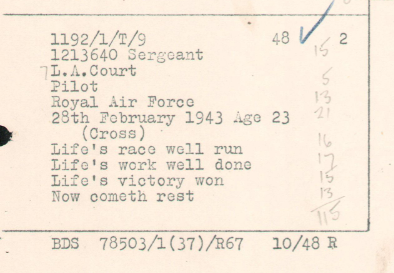 This inscription has a strange history. It comes from the first verse of a poem written in 1879 by Edward Hazen Parker for a friend's funeral. He based it on the words from The Epistle of St Paul to the Hebrews 4:9, "There remaineth therefore a rest to the people of God". Translated into Latin by another friend, W.H. Crosby, both the English and Latin versions were published in the New York Observer on 13 May 1880.
Following a clamour in the newspapers, the author of these lines was eventually traced back to Edward Hazen Parker.
It received no further publicity until over a year later when much to Parker's surprise a slightly amended first verse appeared on the plaque placed on the assassinated US President James Garfield's coffin.
Life's race well run,
Life's work well done,
Life's crown well won,
Now comes rest.
The difference was explained by the fact that someone had come across the Latin version first. Not realising it had originally been written in English they had freely translated it, improving the scan, so they thought, as they went. This is the version that was picked up, circulated and became extremely popular all over the world. It's popularity boosted in 1882 by its publicised usage on the headstone of one of Queen Alexandra's faithful servants.
It would appear that at some point in time, the Commission headstone was removed and replaced by a personal memorial which commemorates both Leonard and his mother Kate.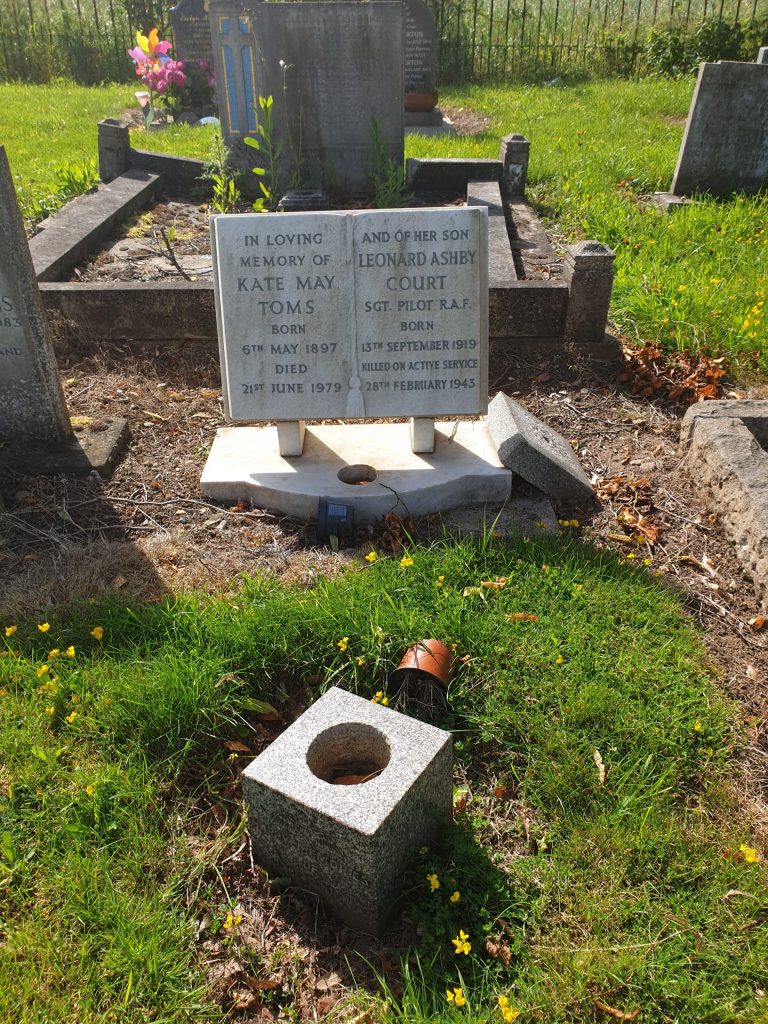 Sergeant Leonard Ashby Court is commemorated on the Barkby War memorial located inside St Mary's Church.
The memorial consists of a wall mounted, portrait orientated white marble tablet with a laurel wreath surmounted by a crown encircling a cross, all in relief. Within the wreath are the names of WW1 fallen, in black lettering. Inscriptions to either side of cross & below wreath, also in black lettering.
Immediately below WW1 tablet is a landscape orientated, WW2 tablet with scalloped top corners containing the names of the WW2 casualties & inscription in black lettering.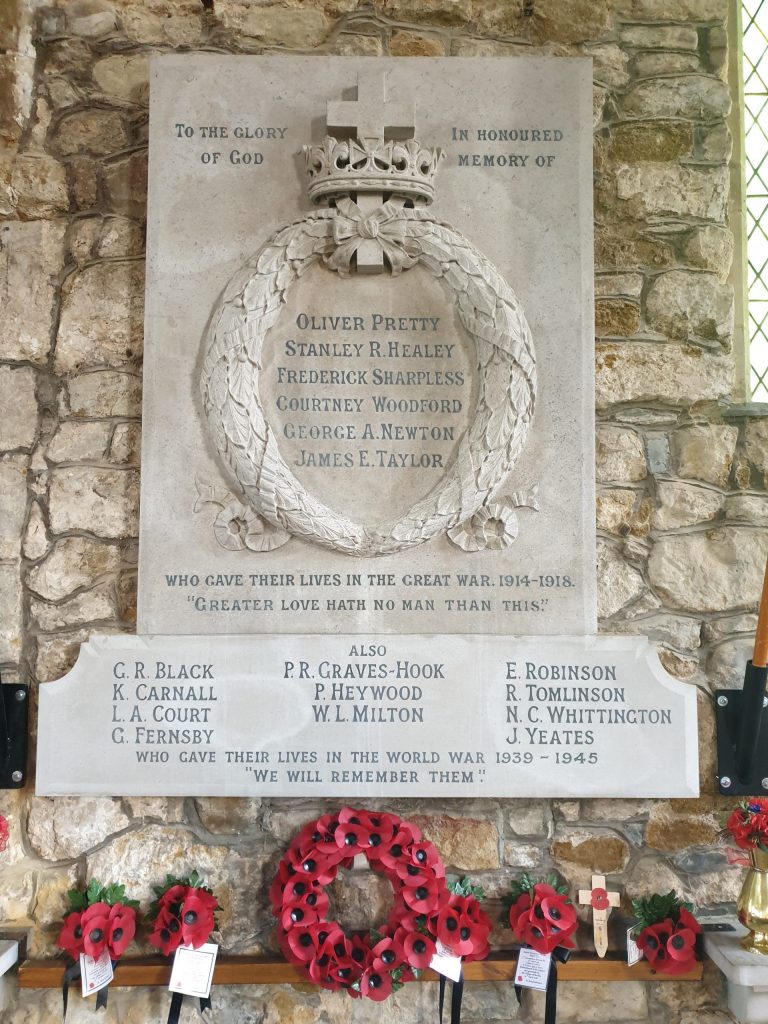 He is also commemorated on the Leicestershire War Memorials Project