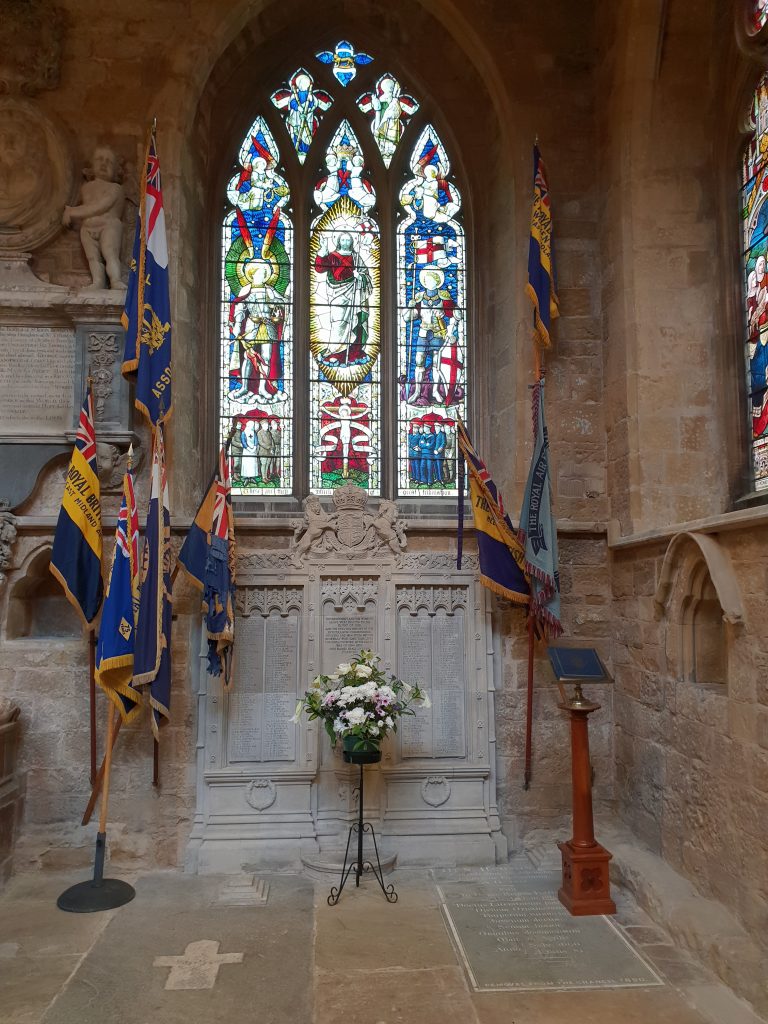 Memorial Description
In the south transept of Melton Mowbray Parish Church, a handsome stained-glass window Containing a large figure of our Risen Lord in glory in the central light, and on either side are figures of the Archangel Michael and St. George of England.
On the wall beneath the window is a chaste Triptych monument in white stone, bearing the names, ranks and year of death for 220 fallen heroes.
The stained glass windows display a heraldic figure in upper two-thirds of left & right lights, the lower third of each light display a group of Great War service people. Left light: Nurse with head partially bowed surrounded by soldiers of Britain & Commonwealth. Right light: Royal Navy & Royal Air Force personnel of differing ranks. Centre light displays a haloed image beneath which, Christ on the Cross.The crest of the Leicestershire Regiment is shown in a small upper light, and there are also depicted angels and the figures of St. Andrew of Scotland and St. Patrick of Ireland.
The wall triptych monument consists of a three panelled decorative stone frame housing a central portrait orientated incised inscription tablet with a figure of St. George in front of lower section, to the left & right of centre tablet are portrait orientated scroll-paired incised name tablets.
The memorial was built by Messrs Burlison & Grylls (Artist) and Bodley and Hare (Designer) and was unveiled at the dedication ceremony on 13th June 1920 by The Rt Hon Earl Beatty OM GCB GCVO DSO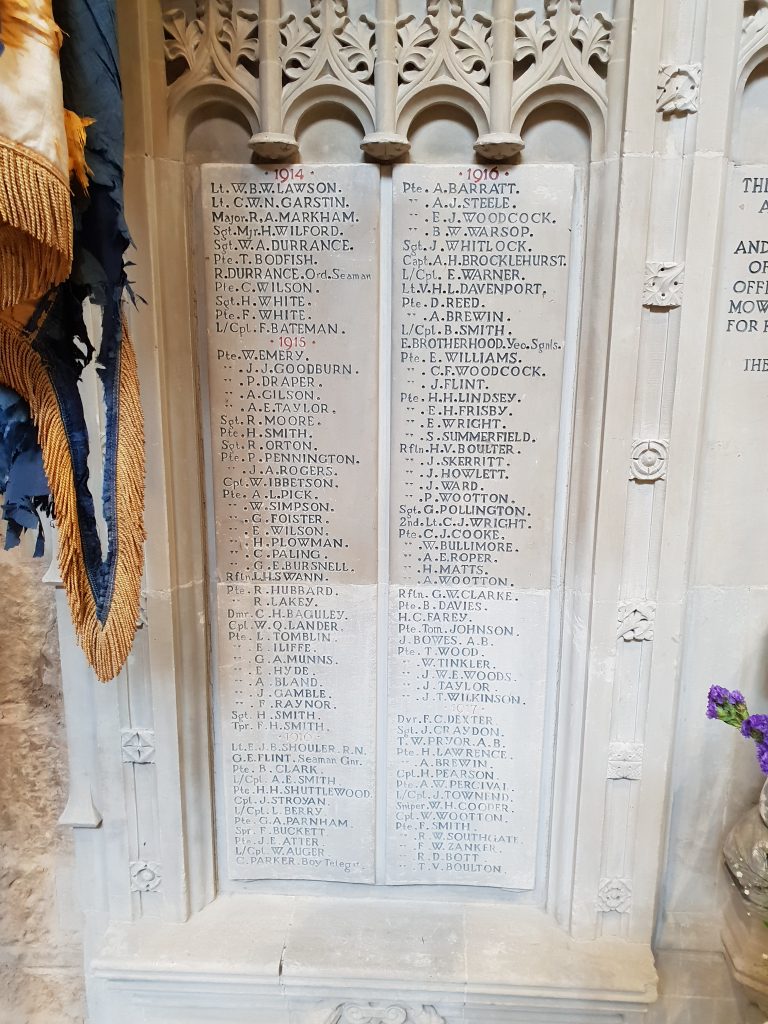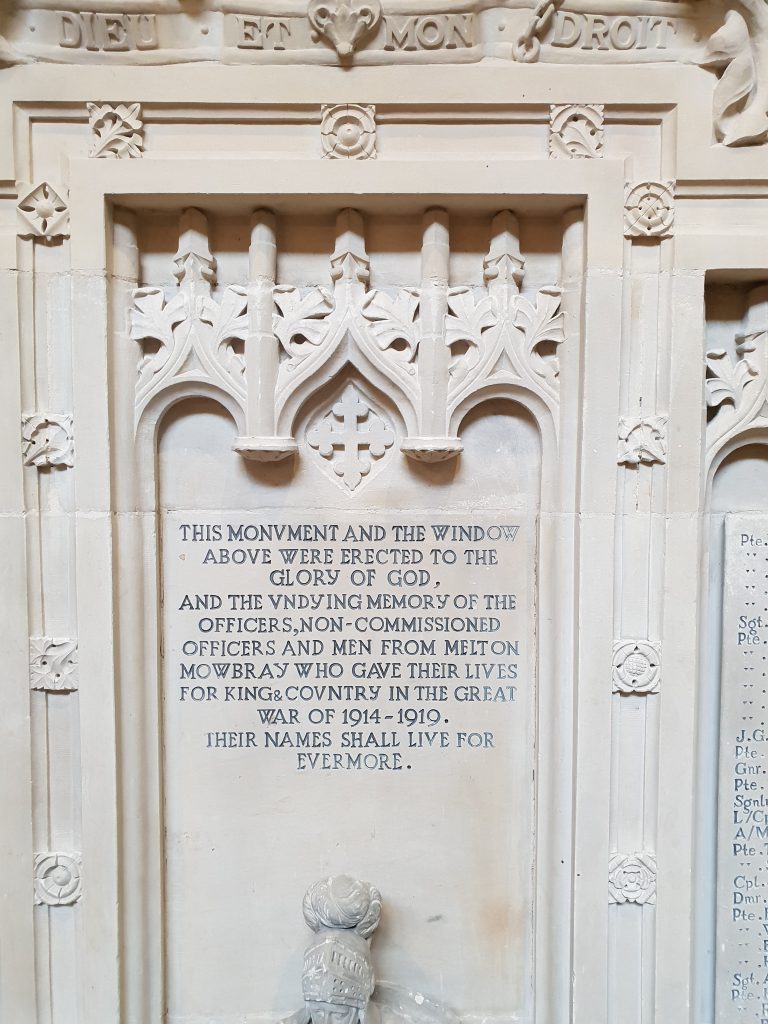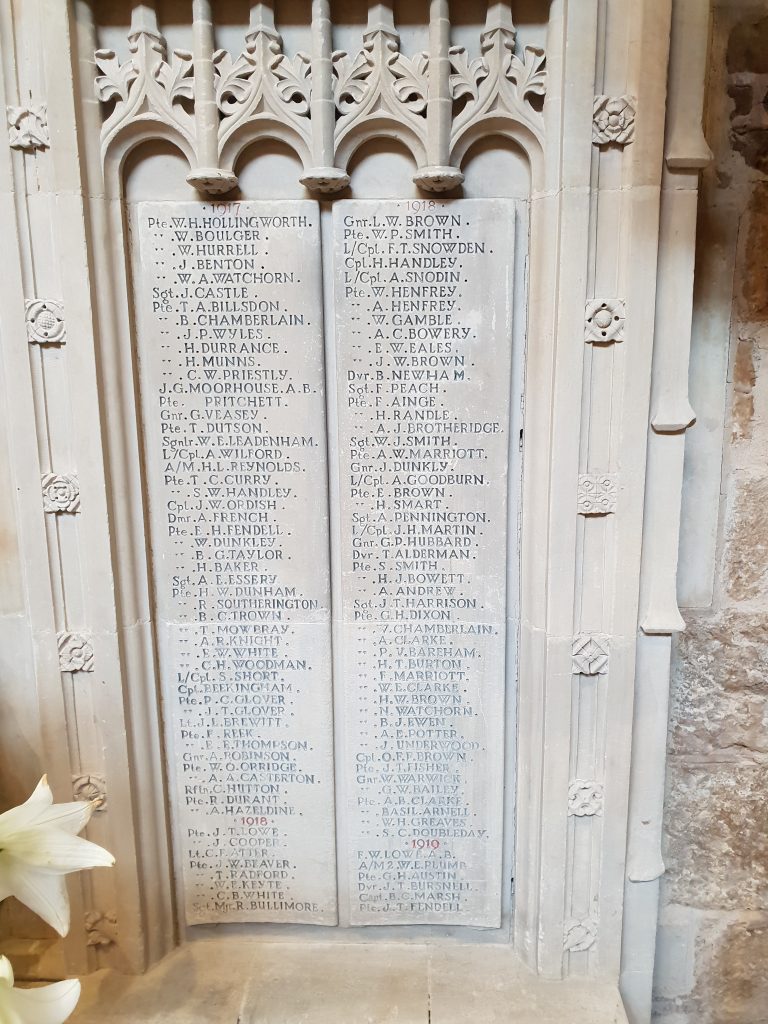 Memorial Details
Stained Glass Window and stone Triptych monument
St Mary's Church Melton Mowbray LE13 1DJ
Commemorations
First World War (1914 – 1918)
Inscription
Window: GREATER LOVE HATH NO MAN THAN THIS, THAT A MAN LAY DOWN HIS LIFE FOR HIS FRIENDS THESE ARE THEY WHICH — OF GREAT TRIBULATION Memorial: THIS MONUMENT AND THE WINDOW ABOVE WERE ERECTED TO THE GLORY OF GOD, AND THE UNDYING MEMORY OF THE OFFICERS, NON-COMMISSIONED OFFICERS AND MEN FROM MELTON MOWBRAY WHO GAVE THEIR LIVES FOR KING & COUNTRY IN THE GREAT WAR OF 1914-19. THEIR NAMES SHALL LIVE FOR EVERMORE.
Names
1914
Lt. W. B. W. Lawson
Lt. C. W. N. Garstin
Sgt Mjr. H. Wilford
Sgt. W. A. Durrance
Pte. T. Bodfish
Ord. Seaman R. Durrance
Pte. C. Wilson
Sgt. H. White
Pte. F. White
L/Cpl. F Bateman
1915
Pte. W. Emery
Pte. J. J. Goodburn
Pte. P. Draper
Pte. A. Gilson
Pte. A. E. Taylor
Sgt. R. Moore
Pte. H. Smith
Sgt. R. Orton
Pte. P. Pennington
Pte. J. A. Rogers
Cpl. W. Ibbetson
Pte. A. L. Pick
Pte. W. Simpson
Pte. G. Foister
Pte. E. Wilson
Pte. H. Plowman
Pte. C. Paling
Pte. G. E. Bursnell
Rfl. L. H. Swann
Pte. R. Hubbard
Pte. R. Lakey
Dmr. C. H. Baguley
Cpl. W. Q. Lander
Pte. L. Tomblin
Pte. E. Iliffe
Pte. G. A. Munns
Pte. E. Hyde
Pte. A. Bland
Pte. J. Gamble
Pte. F. Raynor
Sgt. H. Smith
Tpr F. H. Smith
1916
Lt. E. J. B. Shouler R.N.
Pte. B. Clark
L/Cpl. A. E. Smith
Pte. H. H. Shuttlewood
Cpl. J. Stroyan
L/Cpl. L. Berry
Pte. G. A. Parnham
Spr. F. Buckett
Pte. J. E. Atter
L/Cpl. W. Auger
Boy Teleg. C. Parker
Pte. A. Barratt
Pte. A. J. Steele
Pte. E. J. Woodcock
Pte. B. W. Warsop
Sgt. J Whitlock
Capt. A. H. Brocklehurst
L/Cpl. E. Warner
Lt. V. H. L. Davenport
Pte. D. Reed
Pte. A. Brewin
L/Cpl. B. Smith
Yeo. Sigs. E. Brotherhood
Pte. E. Williams
Pte. C. F. Woodcock
Pte. J. Flint
Pte. H. H. Lindsey
Pte. E. H. Frisby
Pte. E. Wright
Pte. S. Summerfield
Rfln. H. V. Boulter
Rfln. J. Skerritt
Rfln. J. Howlett
Rfln. J. Ward
Rfln. P. Wootton
Sgt. G. Pollington
2nd Lt. C. J. Wright
Pte. C. J. Cooke
Pte. W. Bullimore
Pte. A. E. Roper
Pte. H. Matts
Pte. A. Wootton
Rfln. G. W. Clarke
Pte. B. Davies
Sig. H. C. Farey
Pte. Tom Johnson
J. Bowes A. B.
Pte. T. Wood
Pte. W. Tinkler
Pte. J. W. F. Woods
Pte. J. Taylor
Pte. J. T. Wilkinson
1917
Dvr. F. C. Dexter
Sgt. J. Craydon
T. W. Pryor A. B.
Pte. H. Lawrence
Pte. A. Brewin
Cpl. H. Pearson
Pte. A. W. Percival
L/Cpl. J. Townend
Sniper W. H. Cooper
Cpl. W. Wootton
Pte. F. Smith
Pte. R. W. Southgate
Pte. F. W. Zanker
Pte. R. D. Bott
Pte. T. V. Boulton
Pte. W. H. Hollingworth
Pte. W. Boulger
Pte. W. Hurrell
Pte. J. Benton
Pte. W. A. Watchorn
Sgt. J. Castle
Pte. T. A. Billsdon
Pte. B. Chamberlain
Pte. J. P. Wyles
Pte. H. Durrance
Pte. H. Munns
Pte. C. W. Priestley
J. G. Moorhouse A. B.
Pte. Pritchett
Gnr. G. Veasey
Pte. T. Dutson
Sgnlr. W. E. Leadenham
L/Cpl. A. Wilford
A/M. H. L. Reynolds
Pte. T. C. Curry
Pte. S. W. Handley
Cpl. J. W. Ordish
Dmr. A. French
Pte. E. H. Fendell
Pte. W. Dunkley
Pte. B. G. Taylor
Pte. H. Baker
Sgt. A. E. Essery
Pte. H. W. Dunham
Pte. R. Southerington
Pte. B. C. Trown
Pte. T. Mowbray
Pte. A. R. Knight
Pte. B. W. White
Pte. C. H. Woodman
L/Cpl. S. Short
Cpl. Beekingham
Pte. P. C. Glover
Pte. J. T. Glover
Lt. J. L. Brewitt
Pte. F. Reek
Pte. E. E. Thompson
Gnr. A. Robinson
Pte. W. O. Orridge
Pte. A. A. Casterton
Rfln. C. Hutton
Pte. R. Durant
Pte. A. Hazledine
1918
Pte. J. T. Lowe
Pte. J. Cooper
Lt. C. F. Atter
Pte. J. W. Beaver
Pte. T. Radford
Pte. W. E. Keyte
Pte. C. B. White
Sgt Mjr. R. Bullimore
Gnr. L. W. Brown
Pte. W. P. Smith
L/Cpl. F. T. Snowden
Cpl. H. Handley
L/Cpl. A. Snodin
Pte. W. Henfrey
Pte. A. Henfrey
Pte. W. Gamble
Pte. A. C. Bowery
Pte. E. W. Eales
Pte. J. W. Brown
Dvr. B. Newham
Sgt. F. Peach
Pte. F. Ainge
Pvt. H. Randle
Pte. A. J. Brotheridge
Sgt. W. J. Smith
Pte. A. W. Marriott
Gnr. J. Dunkley
L/Cpl. A. Goodburn
Pte. E. Brown
Pte. H. Smart
Sgt A. Pennington
L/Cpl. J. H. Martin
Gnr. G. P. Hubbard
Dvr. T. Alderman
Pte. S. Smith
Pte. H. J. Bowett
Pte. A. Andrew
Sgt. J. T. Harrison
Pte. G. H. Dixon
Pte. W. Chamberlain
Pte. A. Clarke
Pte. P. V. Bareham
Pte. H. T. Burton
Pte. F. Marriott
Pte. W. E. Clarke
Pte. H. W. Brown
Pte. N. Watchorn
Pte. B. J. Ewen
Pte. A. E. Potter
Pte. J. Underwood
Cpl. O. F. P. Brown
Pte. J. T. Fisher
Gnr. W. Warwick
Gnr. G. W. Bailey
Pte. A. B. Clarke
Pte. Basil Arnell
Pte. W. H. Greaves
Pte. S. C. Doubleday
1919
F. W. Lowe A. B.
Pte. G. H. Austin
Dvr. J. T. Bursnell
Capt. B. C. Marsh
Pte. J. T. Fendell
Unveiling Ceremony
Leicester Daily Post – Monday 14 June 1920
EARL BEATTY AT MELTON.
Unveils War Memorial in the Parish Church, and Addresses Congregation. Comrades of Great War Inspected.
As a memorial to those from the town who lost their lives in the war, a handsome stained-glass window has been placed in the south transept of Melton Mowbray Parish Church. The central light contains a large figure of our Risen Lord in glory, and on either side are figures of the Archangel Michael and St. George of England. Beneath the central light there is a representation of the Crucifixion, and level with this are groups of soldiers and sailors. The crest of the Leicestershire Regiment is shown in a small upper light, and there are also depicted angels and the figures of St. Andrew of Scotland and St. Patrick of Ireland. On the wall beneath the window is a chaste monument in white, bearing the names of 220 fallen heroes and the following inscription :—" To the undying memory of the officers, non-commissioned officers and men from Melton Mowbray who gave their lives for King and country in the great war of 1914-19. Their names shall live for ever."
The unveiling ceremony was performed at yesterday morning's service by Earl Beatty, Admiral of the Fleet, who was accompanied by Countess Beatty and Mrs. Marshall Field. The local branch of the Comrades of the Great War, under Commandant A. Watson, formed a guard of honour in Church Lane and the churchyard, and the distinguished visitors were met at the west door by the clergy and surpliced choir, Col. Dalgliesh, C. B., also being in the procession. The south transept was reserved for the relatives of the fallen men. The Rev. Canon Blakeney, R.D., and the Rev. H. T. Mogridge took the service, and the choir rendered the anthem, " I heard a Voice."
EARL BEATTY'S ADDRESS.
Having unveiled the window and monument, Earl Beatty addressed the congregation from the reading desk. He said they had gone through the ceremony of unveiling a memorial as a testimony of their gratitude, appreciation, and recognition of the services of those gallant men who gave their lives willingly, and who died joyously and gloriously to save England from the fate that befel the countries with which they were allied. They asked for nothing better than to stand or fall in the service of their country. They gave their lives joyously, therefore there was no need for them to mourn; they need not regret for their sakes. But they could think how fortunate they were to have lived through such days when the names of England and of the British Empire were crowned with glory, and when the prestige of that Empire stood higher than ever before, thanks to the sacrifices that were made. Surely that must be a comforting thought to all those who gave their dear ones in the great venture, and surely they must take comfort from the fact that they were still alive to see the reward that had been reaped by the giving.
Could they visualise for themselves the men of the great Empire to which they belonged answering the call of country, and flocking to the defence of England; could they see the big ships steaming across the vast expanse of the ocean, from east and west, north and south, filled with Britishers who were coming to the defence of this island? They were fortunate to have seen the country to which they belonged rise higher and higher in the estimation of the world, until reaching such a position as had never been attained before.
LESSONS LEARNED.
There was a lesson to be learned out of chose sacrifices. Those who had been fortunate enough to return had learned much in the four and a half years of war, and he would ask that those lessons should be handed down to future generations, so that they might see that the sacrifices which had been made had not been in vain. They had learned to recognise that it was discipline which gave them the meeting. Brotherhood was learned on the battlefield as it never could be learned at home. They had a right to ask that the Empire should not forget that it was brotherhood, comradeship, and discipline which made victory possible, and that in the work of peace, in the return to prosperity and in the future of their Empire, comradeship and brotherhood should play the same part, and that the Empire should continue to work together as one man for the common cause.
At the conclusion of the service Dr. Malcolm Sargent played the "Dead March" in "Saul." The offertory on behalf of the Memorial Fund amounted to £53.
COMRADES INSPECTED.
The Comrades afterwards formed up in Burton -street, and, headed by the Melton Town Band, they marched to the Town Park, and were there inspected by Earl Beatty. Addressing the men from the bandstand, he said the ceremony which had been performed that day brought to a close a chapter in the history of the world, so far as Melton Mowbray parish and district were concerned, but, like other histories, there was the aftermath, which was never closed. It was open to those who were living to see that the sacrifices of those who had passed away the service of their country had not been made in vain, and he asked the Comrades of the Great War to see that the fruits of the victory were not thrown away. Selfishness must be put on one side, and instead of working for the individual they must work for the whole. By so doing they would make England a better place to live, and a better place for their children and children's children.
In the evening an impressive memorial service was held the church, Canon Blakeney preaching to a large congregation.
IWM War Memorials Register
War Memorials Trust Grants
Leicestershire War Memorials Project