In Blog 37 I looked at the Melton & District Spitfire Fund and how the people of Melton Mowbray and surrounding district pulled together in the latter half of 1940 to purchase a Spitfire fighter at a cost of £5,000.
Between 1941 and 1942, the British Government introduced a similar savings scheme, this time in the concept of National Savings where each region in the country was provided with a savings target to achieve. The target was based on the region's population, with each level of savings having a class of warship assigned.
This became known as Warship Week, due to its similarities with War Weapons Week – which was a drive to replace the materiel lost at Dunkirk through a savings campaign.
There were a total of 1,178 warship weeks organised across the country during the campaign, involving a total of 1,273 districts. A press announcement quoted the adoption of eight battleships, four carriers, forty-nine cruisers, three hundred and one destroyers, twenty-five submarines, one hundred and sixty-four corvettes and frigates and two hundred and eighty-eight minesweepers.
In early 1942, it was announced the Melton had adopted one the Corvettes. "Terriers of the seas, those are Corvettes. One of them has been adopted by Melton. It is aid that the job of the Corvette is one of the toughest of the war at sea. Melton and District is to raise £120,000 to buy one during Warship Week in March. First in service in the summer of 1940, already they have given a very good account of themselves. The precise details of their engagement has not been published; but officers and men have been mentioned as having received decorations or medals for successful operations against enemy U-boats."

It was announced in the Melton Times on Friday 6th February 1942 that Melton Warship Week would be held from 7th to 14th March 1942 and it was hoped that Earl Beatty would be able to be present to take the salute.
A community would sponsor a ship through individual savings in government bonds and national savings certificates and Melton Mowbray was no exception. At a meeting of savings group secretaries at the Oddfellow's Hall on Wednesday 4th February, Mr R Stuart Smith provided an update on the fundraising activities:
"There are now 231 savings groups in Melton and District, 116 of these being in the latter. During the past 6 months, the 50 Melton street savings groups have saved £2,285.00". He went on to say that from November 1939 to the end of January 1942, people in Melton and district have saved £655,512 or approximately £6,000 per week.
The deputy commissioner, Mr Peter Stevenson also spoke about the coming 'Warship Week' and Superintendent R W Stapleton spoke to the meeting about the parade. Joining them was Lieutenant P W Woodriffe RN who gave an interesting talk on the Battle of Jutland which he illustrated with lantern slides.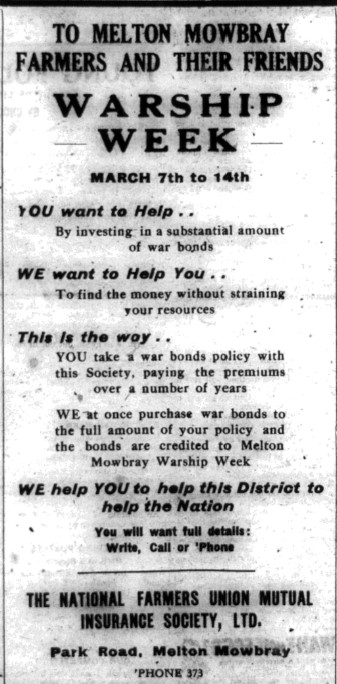 One of the earliest purchasers of certificates at the central selling centre in the Market Place, was a youth by the name of Teddy Stapleford who bought £24 worth of certificates for the Sydney Street savings group, of which he was secretary.
Six children representing various schools purchased the first certificates towards their group targets.
On 24th April 1942, the Market Harborough Advertiser and Midland Mail published an article detailing the warship weeks fundraising activities for the county. In total, £6,616,247 had been raised, enough to pay for 16 warships. By the end of the campaign, Melton Mowbray & District raised a total of £181,139.00 for their ship.
| | | | |
| --- | --- | --- | --- |
| Committee Area | Adopted Ship | Target £ Amount | Total £ Raised |
| Billesdon R.D. | HMS Lilac | 30,000 | 112,812 |
| Loughborough | HMS Venomous | 210,000 | 300,653 |
| Barrow Upon Soar R. D. | HMS Seawolf | 250,000 | 245,517 |
| Market Harborough & District | HMS Fernie | 150,000 | 200,023 ½ |
| Blaby R.D. | HMS Blackthorne | 62,000 | 117,168 |
| Hinckley U.D. | HMS Amazon | 210,000 | 387,047 |
| Leicester | HMS Renown | 3,000,000 | 4,015,740 |
| Lutterworth R.D. | HMS Laurel | 62,000 | 106,757 |
| Melton Mowbray & District | HMS Samphire | 120,000 | 181,139 ½ |
| Shepshed U.D. | HM MTB No 102 | 70,000 | 73,328 |
| Market Bosworth R.D. | HMS Larch | 132,000 | 148,260 |
| Ashby de la Zouch | HMS S/M P43 | 175,000 | 203,461 |
| Castle Donington R.D. | HMS Barbican | 85,000 | 37,235 |
| Coalville U.D. | HMS Southwold | 210,000 | 253,067 |
| Oadby U.D. | HMS Botanic | 40,000 | 97,433 |
| Wigton U.D. | HMS Speedy | 136,485 | 136,606 |
Throughout Melton Mowbray and the district, there were a total of 231 savings groups, of which 116 were in the rural area. At a savings committee meeting, presided over by Councillor Oliver Brotherhood, it was revealed that practically every street in the town had a savings group. By February 1942, the groups had raised a total of £655,512 since November 1939, approximately £6,000 a week.
The Melton's Warship Week was launched in Windsor Street at 8PM on 7th March 1942 by the Lord Lieutenant of Leicestershire, Sir Arthur G Hazlerigg Bart, and the Chairman, R W Brownlow Esq, JP, chairman of the Bench of Magistrates with a contingent from the Royal Army Ordnance Corps forming a guard of honour.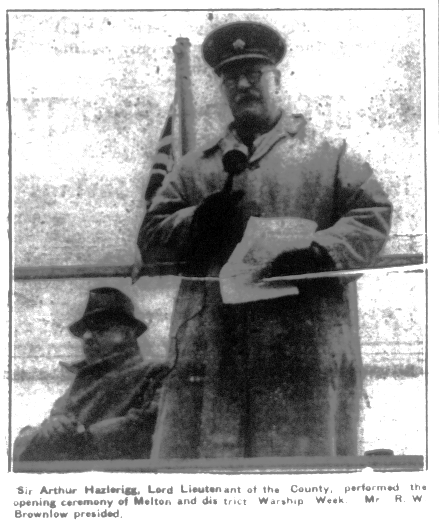 it was announced by Mr J Green, Chairman of the bonds Committee, that their target was more than half subscribed with over £76,000 of the £120,000 target.
A parade to launch the campaign took place on Sunday 8th March with members of the HM Forces, together with the Home Guard and Auxiliary Forces. The parade assembled at the Scalford Road car park and was directed by Superintendent R W Stapleton who had directed the 1941 War Weapons Week parade which was over a mile long.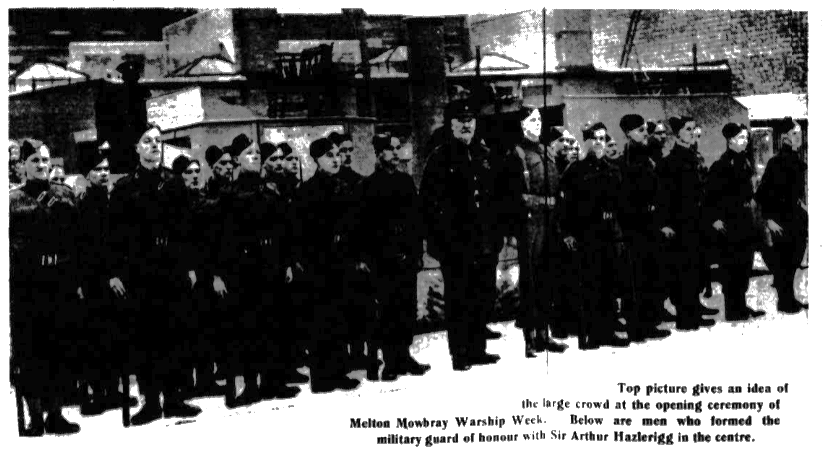 The parade set off at 2:45PM marching down Scalford Road, Norman Street, Bentley Street, Sage Cross Street, Sherard Street, Market Place and High Street to the Wilton Road car park. The following bands also took part in the parade: The Band of the Navy League Sea Cadets, the band of the Royal Army Ordnance Corps and the band of the Leicester Air Training Corps.
Taking the salute on the saluting base in the Market Square was Surgeon Lieutenant Commander F T Doleman, RNVR, of Leicester instead of the Earl Beatty. He was accompanied by Air Commodore Sir W Lindsay Everard, the Duchess of Rutland, Mrs P Cantrell Hubbersty and Mrs A E Burnaby.
As the crowd of spectators made their way to the Wilton Road car park for a drum head service, a mounted Policeman's horse mounted up, narrowly missing the Chief Constable of Leicestershire, Captain C E Lynch-Blosse, but Alderman T Sarson received slight injuries to his leg in the incident.
HMS Samphire was built by Smiths Dock Company, in South Bank-on-Tees, and was commissioned into the Royal Navy on 30th June 1941. Shortly after entering service, from the 15th – 21st July 1941, Samphire took part in anti-submarine exercises off Tobermory with a Dutch submarine HrMs O 10, commanded by Lt J H Geijs Royal Netherlands Navy, and other Royal Navy vessels including HMS Brora, HMS Cumbrae, HMS Flotta, HMS Islay, HMS Le Tiger, HMS Romeo, HMS St Mary's & HMS Wells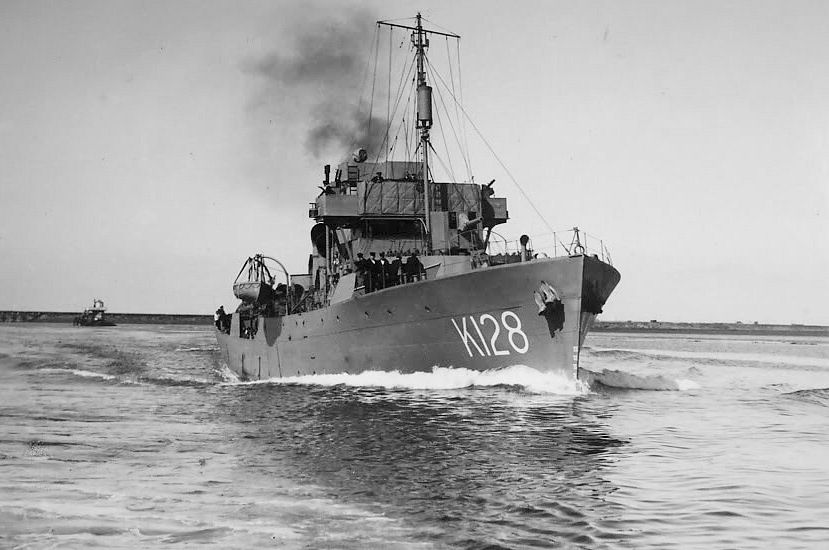 Samphire was tasked with convoy escort operations between Liverpool and the Mediterranean Sea and assigned to the 36th Escort Group commanded by Captain F J Johnnie Walker of the Western Approaches Command Group.
On the 30th July 1941, Samphire was part of the escort group for convoy OG.70, Outbound from the British Isles to Gibraltar. This convoy consisted of 20 merchant vessels and 9 escort vessels including Samphire.
On approach to Gibraltar, HMS Samphire along with 7 other Navy escort ships parted company with OG.70 to join the northbound convoy HG.70
Convoy HG.70 was an allied trade convoy of the Homeward from Gibraltar series and comprised of 25 ships sailing from Gibraltar on 9th August 1941.
Convoy HG.76 was an allied trade convoy of the Homeward from Gibraltar series and comprised of 32 ships sailing between 19th and 23rd December 1941.
It whilst escorting convoy HG.76 when at 06.15Hrs on 19th December 1941, that German U-boat U-108 fired a spread of two torpedoes at the convoy west of Lisbon. A flash and a large column of black smoke was observed on one ship and two detonations were heard. The steamer Ruckinge was damaged by one torpedo and the survivors were rescued by the Steamer FINLAND and sloop STORK. The Ruckinge was later shelled and scuttled by HMS Samphire (K 128) (LtCdr F.T. Renny, DSC, RNR).
A couple of days later on 21st December 1941, north of the Azores, Samphire successfully released depth charges with the British sloop Deptford resulting in the sinking of the German submarine U-567 in the North Atlantic northeast of the Azores resulting in the loss of all 47 men on board the U-567.
On 8th November 1942, she was escorting USS Leedstown (AP-73) from the Mediterranean after she had been attacked by German aircraft, which hit the Leedstown with an aerial torpedo in the stern the day earlier.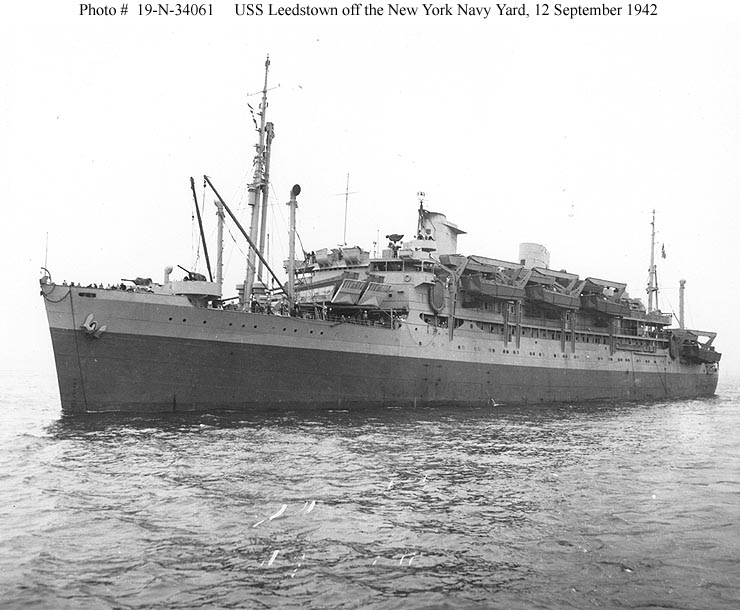 At 12:55Hrs on 9th November, German aircraft attacked again with 3 bombs straddling the Leedstown. Although Samphire managed to shoot down one attacker, vibration from the bombs exploding added further damage to that caused the night before.
The Leedstown was again attacked at 13:10Hrs, this time by 2 torpedoes which struck her amidships, exploding with tremendous force. The ship started to settle with an increased starboard list and when the midships were about 3 feet under water, the decision to abandon ship was taken.
HMS Samphire was standing by and assisted in the rescue of the survivors from the Leedstown. At 14:30Hrs, Commander Cook had gone over the side of Leedstown and was rescued about an hour later. Samphire rescued 104 survivors who she put ashore the following morning at Algiers.
During the early hours of 12th November 1942, HMS Tynwald was at short notice, ready to sail from 04:45Hrs in anticipation of a dawn Axis air raid. Tynwald was part of a task force sent to capture an airfield near Bougie (modern Béjaïa) 100 miles east of Algiers. At the centre of the force were infantry landing craft, and the covering force included the cruiser HMS Sheffield, the monitor HMS Roberts, and fourteen other supporting vessels.
Just 30 minutes later, Tynwald was hit by 2 torpedoes launched from the Argo, an Italian submarine commanded by Lt Pasquali Gigli resulting in Tynwald settling rapidly in 7 meters of water and 10 of her crew killed. The survivors were rescued by HMS Samphire and HMS Roberts.
The Leicester Evening Mail published the following article on the 4th December 1942:
"Melton Corvette saved Melton Man. After being in the sea for two hours, Able Seaman Horace E Main, of Salisbury Avenue, Melton, was picked up by Melton's adopted corvette HMS Samphire.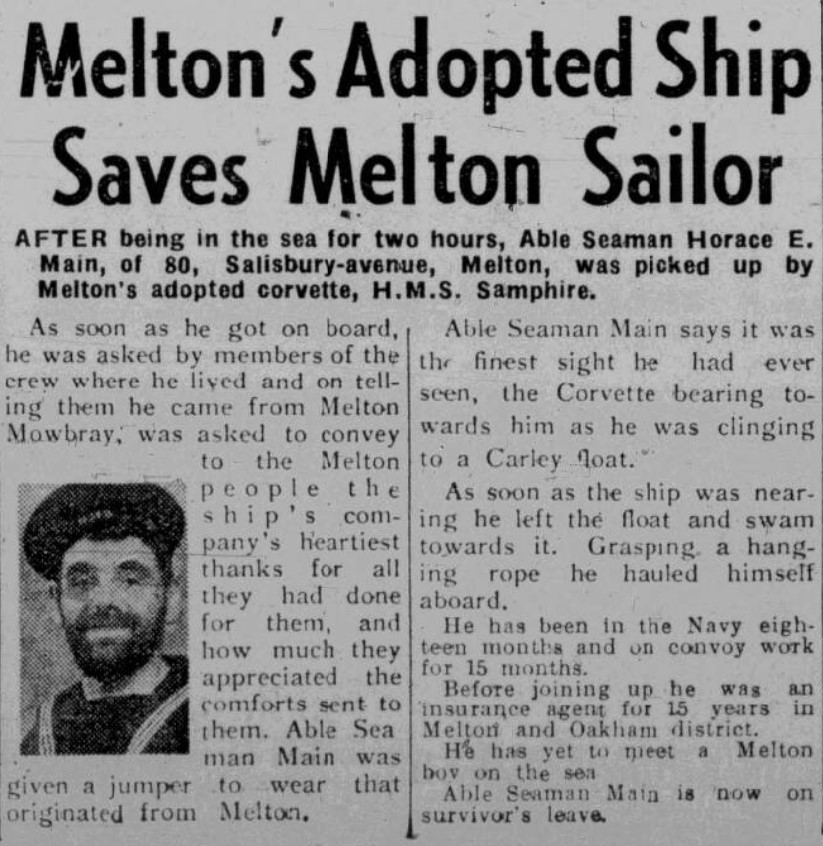 As soon as he got on board, he was asked by members of the crew where he lived, and when he told them he was asked to convey to the Melton people the ship's company's thanks for all they had done for them. Able Seaman Main was given a jumper to wear which came from Melton. Able Seaman Main says the finest sight he had ever seen was the corvette bearing towards him as he was clinging to a float."
On 14th December 1942, Samphire assisted in the rescue of nine survivors from the British merchant ship Edencrag, which had been torpedoed and sunk by the German submarine U-443 west of Algiers.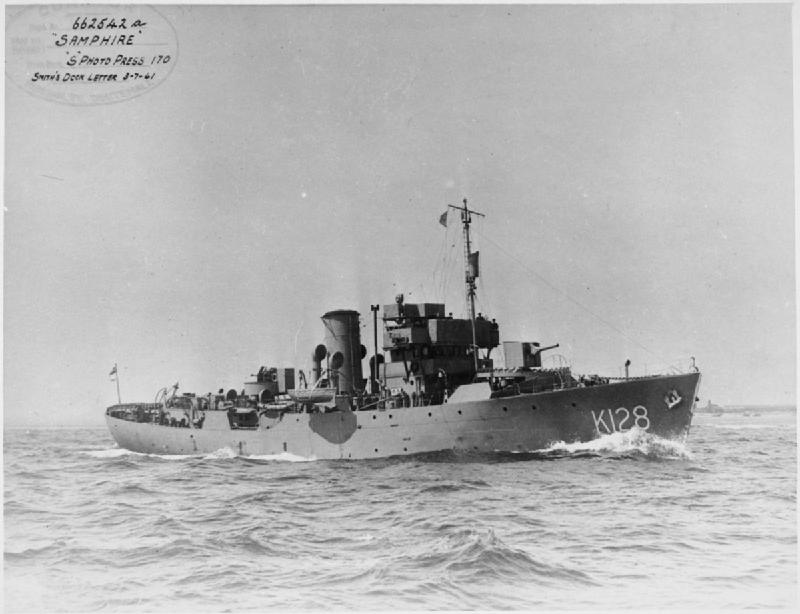 Samphire was torpedoed and sunk on 30 January 1943 off Bougie, Algeria by the Italian submarine Platino. Samphire was escorting convoy TE-14 which was taking part in the North African campaign. The captain, two officers and 42 of the ship's crew perished.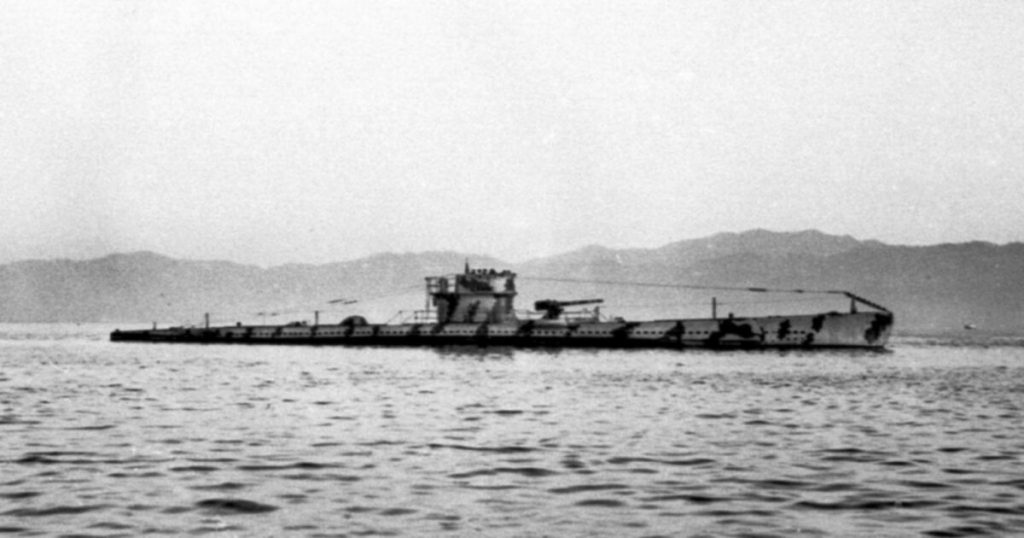 On the 7th November 1947, the Leicester Daily Mercury reported the following: "Melton's ship no longer – A letter from the Admiralty intimates that HMS Samphire, the ship that Melton adopted, is now out of commission, and the association between the crew and the town is thus ended.
Melton Mowbray was preseneted with a commemorative shield in recognition of their adoption of HMS Samphire. This shield is now on display in the Royal British Legion Office in Melton Mowbray.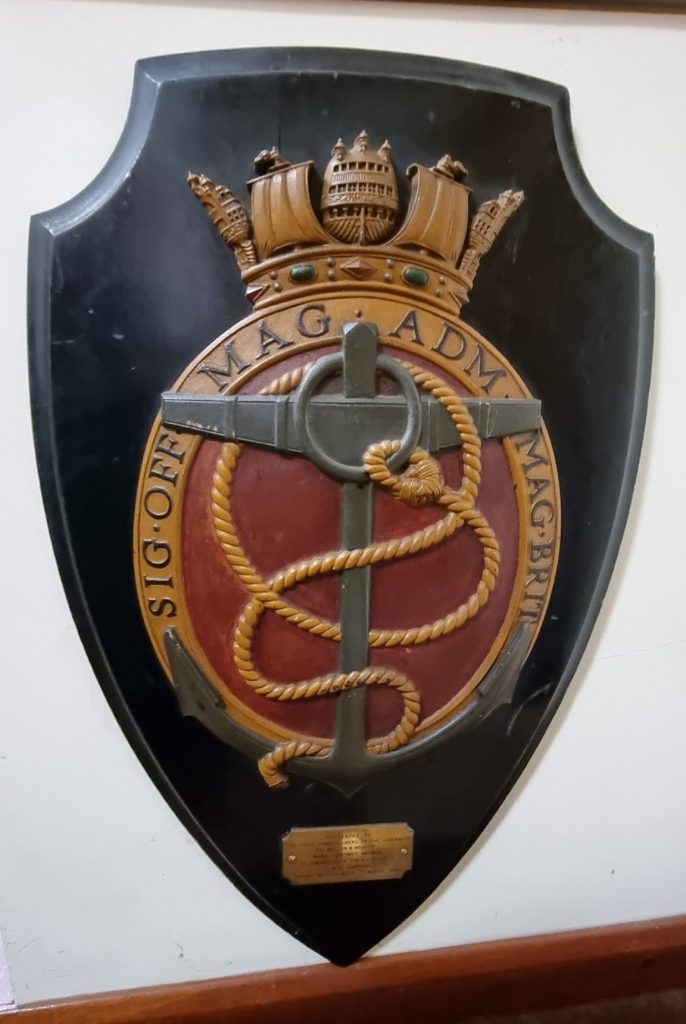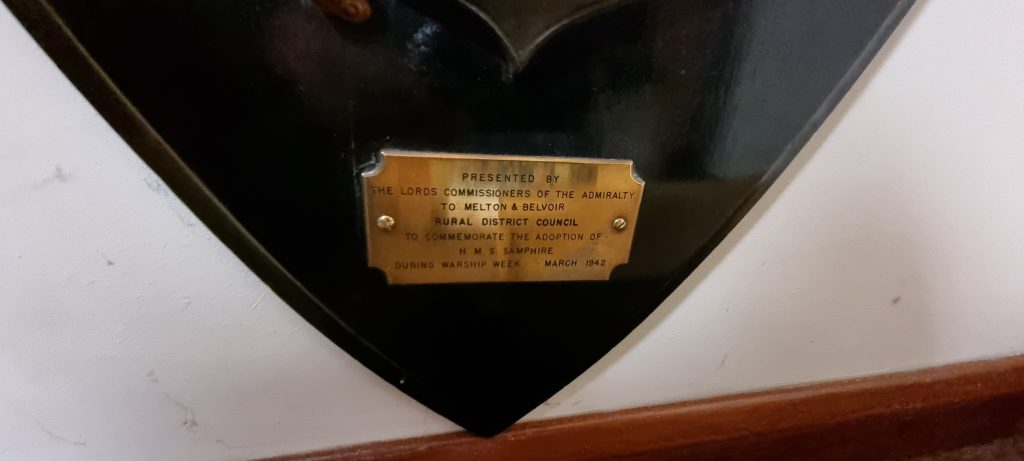 Following the publication of my Melton's Warship blog, I was contacted by an individual who lives on the Kirby Lane Fields Housing Estate in Melton Mowbray who told me "When we moved in to our house back in 2000 the site forman told us all the roads on the estate were named after wild flowers. However, the site manager told us they were named after WWII Corvettes. I wonder who was correct as I know there was an HMS Celandine."
So naturally, I did a little bit of investigation into the street names from that estate and yes they are all flowers but out of the 16 street names, 13 are used by the Royal Navy as Ship names, with 12 in the Flower Class Corvettes.
There is 1 name connected to a WW1 Acacia Class Minesweeping Sloop and 3 others where I can find no connection to RN ships at all.
Anemone Close – HMS Anemone (Flower Class Corvette) launched 22nd April 1940 – Sold in November 1949. Resold on 3 October 1950 to Norway as buoy tender Pelkan, 1951 rebuilt as whale catcher, sold December 1963, renamed Østfold, Scrapped 1 November 1964.
Bluebell Row – HMS Bluebell (Flower Class Corvette) launched 24th April 1940 – Torpedoed and sunk on 17th February 1945 by U-711 off the Kola Inlet at 69-36N, 35-29E.
Campion Place – HMS Campion (Flower Class Corvette) launched 20th June 1941 – Sold on 20 April 1947 and scrapped at Newport.
Celandine Drive – HMS Celandine (Flower Class Corvette) launched 28th December 1940 – Shared sinking of U-556 on 27th June 41. Sold in October 1948 and scrapped at Portaferry.
Clover Drive – HMS Clover (Flower Class Corvette) launched 30th January 1941 – Sold on 17 May 1947 as mercantile Cloverlock. Resold to People's Republic of China as mercantile Kai Feng.
Coltfoot Way – HMS Coltsfoot (Flower Class Corvette) launched 15th May 1941 – Sold in 1947 as mercantile Alexandra.
Cowslip Drive – HMS Cowslip (Flower Class Corvette) launched 28th May 1941 – Sold in July 1948. Scrapped in April 1949 at Troon.
Foxglove Avenue – HMS Foxglove (Acacia Class Minesweeping Sloop) entered service 14th May 1915 – Sold for scrapping on 7 September 1946. She was scrapped at Troon, Scotland
Harebell Drive – HMS Harebell (Flower Class Corvette) Cancelled on 23 January 1941. Pennant K202
Heather Crescent – HMS Heather (Flower Class Corvette) launched 17th September 1940 – Sold on 22 May 1947 and scrapped at Grays.
Honeysuckle Way – HMS Honeysuckle (Flower Class Corvette) launched 22nd April 1940 – Sold in 1950 and scrapped in November 1950 at Grays.
Marigold Crescent – HMS Marigold (Flower Class Corvette) launched 4th September 1940 – Torpedoed and sunk on 9 December 1942 by the Aviazione Ausiliara per la Marina while escorting convoy KMS.3Y off Algiers at 36-50N, 03-00E. 40 crew were killed.
Orchid Close – HMS Orchis (Flower Class Corvette) launched 15th October 1940 – Sank U-741 single-handed 15 August 44. Mined and heavily damaged on 21 August 1944 off Courseulles-sur-Mer. Beached on Juno Beach and declared a total loss.
Camomile Road, Teasel Drive and Trefoil Close no connection to RN Ships as far as I can tell.
Sadly, there is no street named Samphire after Melton's Warship. So was this a deliberate naming strategy by Melton Borough Council to name the streets after the Flower Class Corvettes in honour of the towns connection, or was it just a coincidence. If theye were named after the Corvettes, it is a shame there is no street named Samphire!